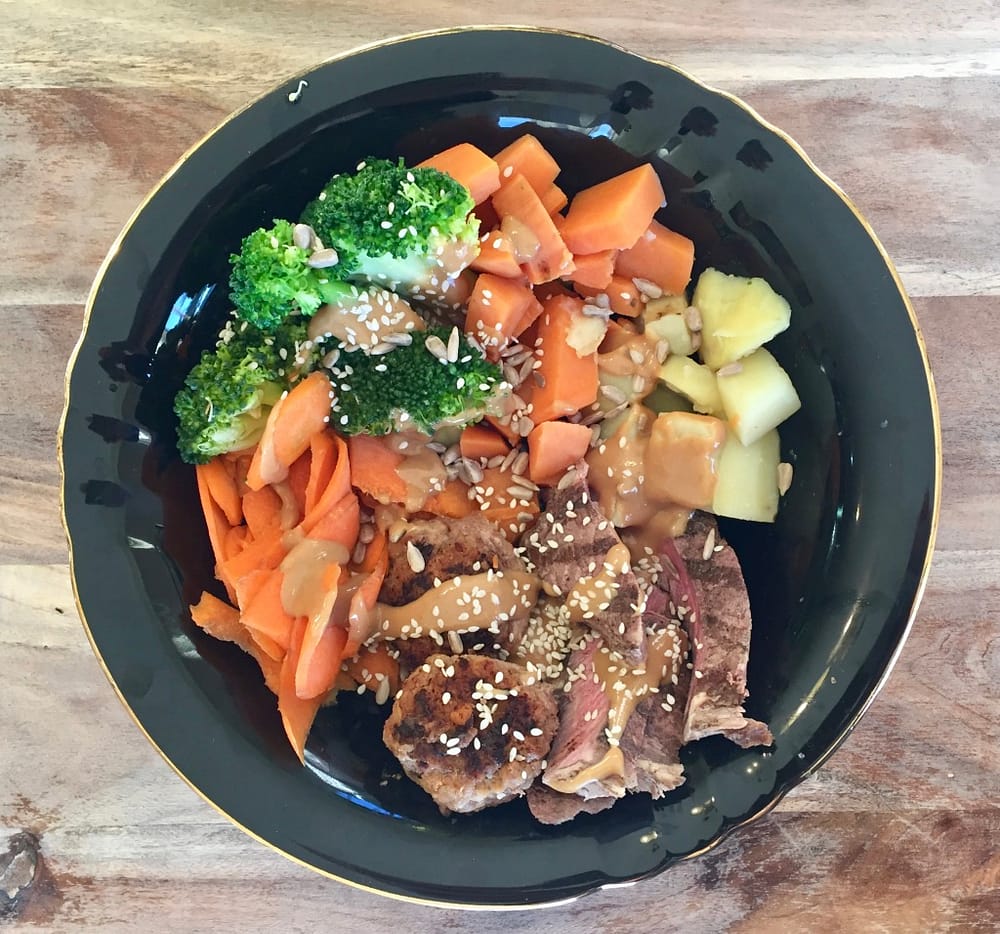 This buddha bowl recipe is loaded with Probiotics (healthy bacteria) and Prebiotics (food for your bacteria). See my post here which talks more about the bacteria in your body.
Miso
Miso is a Japanese seasoning which is  made by fermenting soybeans, barley, and rice with a fungus called Aspergillus oryzae. It's sounds a bit gross, but it tastes great, is a great source of probiotics and lasts forever in your fridge. It's also loaded with vitamins and minerals (B-complex vitamins, calcium, iron, zinc, copper and magnesium).
Cooled potato
In this recipe I recommend cooking and cooling the potato. That's because resistant starch (Prebiotics) form when potatoes cool.  Prebiotics are food for the bacteria in your gut, which increases the number and type of beneficial bacteria in your stomach.
Cooking and cooling potatoes also reduces the carb load and glucose response in your body (glucose response triggers fat storage).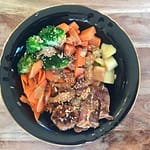 Buddha Bowl – Miso Tahini and Lemon dressing
Ingredients
500

grams

Steak grass fed

1

Tbsp

olive oil

2

Sweet potatoes

medium cut into cubes

2

Potatoes

medium cut into cubes

2

Capsicums red

2

Carrots thinly sliced

1

Brocolli cut into small florets

stem peeled and diced

1

Tbsp

Sesame Seeds
For the sauce
3

Tbsp

Tahini

2

Tbsp

Red miso

1

Tbsp

Ginger

Fresh

1

Tbsp

Honey

3

Tbsp

Apple Cider Vinegar

1

Tbsp

Lemon

1/2

Tbsp

Sesame oil

3-4

Tbsp

Water

1

Tbsp

Soy sauce
Instructions
The steaks will cook more evenly if it is bought to room temperature before cooking. So if you have time, remove the steaks from the refrigerator 1-2 hours before you start cooking and season with sea salt.

Boil the potatoes and sweet potatoes until tender (Don't over cook them, you don't want mash potato) and drain in a colander.

Set aside the potatoes in the fridge to cool down for a couple of hours / overnight. I recommend cooling the potatoes to form resistant starch (Prebiotics) - refer to the note above on Probiotics.

Preheat the bbq so that it is nice and hot. Splash your steak with olive oil and shake off any excess. Put on the grill until cooked to you liking. I suggest medium rare which takes about 7-10 minutes for a 250g steak. Note: To get nice grill marks on your steak - put on the grill at 45-degree angel to the grill bars. When halfway through cooking that side, turn the steaks 45 degrees the other direction. When done, turn the steaks over and do the same with the other side.

Once they are done, put the steaks on a plate, cover with foil and then with a tea towel to keep warm. Let the meat rest for about 10 minutes.

Once the meat is rested, cut into slices

Cut the capsicums into quarters and place in a grill skin side up. You want the skin to bubble and start to burn. Set aside to cool. Then peel the skin and cut into strips.

Add the broccoli to a pot of boiling water until crisp-tender (1-2 mins). Once they are done, drain and immediately plunge the broccoli into ice cold water or under cold running water. This stops the cooking process so that you don't over cook your broccoli and helps preserve their bright green colour.

Pan fry the sesame seeds on a medium heat until lightly brown.

To make the sauce, mix all the ingredients in a bowl. Add extra water if the sauce is to thick.

To serve, assemble the ingredients in a bowl, top with sauce and roasted sesame seeds.